Rock poet Tom Roger Aadland's new album Motgift has received brilliant reviews. "Our finest Dylan interpreter delivers some great songs on his own", Aftenposten writes. "Aadland is better than ever", Vårt Land claims, calling the new album "a strong cure for indifference and superficiality". Dagsavisen writes, "It would have been fitting that Bob Dylan recorded these songs in English". "The best Aadland has done…At times he may remind you of a Norwegian Cohen, balancing between everyday life and mythology", Klassekampen writes.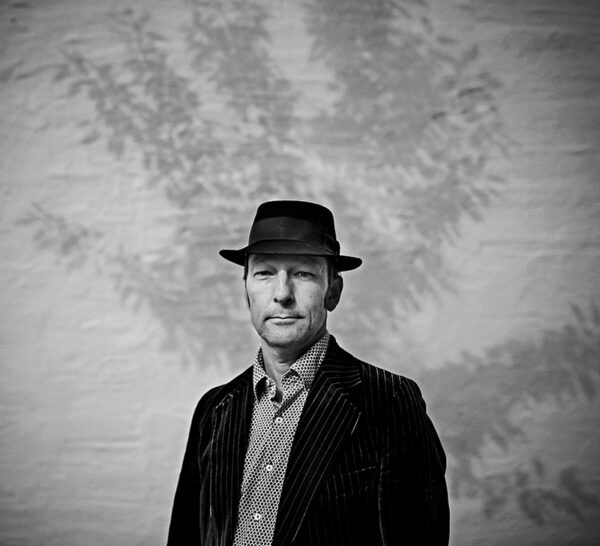 When Tom Roger looked through the new songs he'd written, what struck him was that they were most of all about vulnerability. "Motgift" is an album with both gravity and playfulness to it. The music has sting and energy, and the lyrics are perhaps the best he's written. The album has been produced by Lars Voldsdal (Madrugada, Hellbillies) and recorded with some of Norway's finest musicians, including Karl Oluf Wennerberg (a-ha), Kjetil Steensnæs (Bjørn Eidsvåg) and Mikael Lindqvist (DumDum Boys).
Tom Roger Aadland is one of Norway's most acclaimed songwriters the last years. This autumn he has contributed lyrics on Hellbillies' new album "Blå dag", as well as Vamp's latest release "Tiå det tar". His Dylan translations are a success in the theatre concert Vikla inn i blått at Det Norske Teatret in Oslo. "Blondt i blondt" was voted album of the year by national radio show Norsk på norsk in 2016. Aadland is also known as a writing partner for Marion Ravn. Several of his songs have become radio favourites, such as "Min beste ven på ein dårleg dag" and "Alle dei i ei".
In 2019 Aadland released the concert album Live i Oslo Konserthus. "One of our best ones", Stavanger Aftenblad wrote, while Klassekampen commented: "Not only has he got good taste, he also knows how to use it". The single "Farten til lyden av einsemd" (John Prine's "Speed of the Sound of Loneliness" translated), a duet with roots singer Tove Bøygard, received great reviews. The duo released three more singles in 2020, including «Engel ifrå Seljord», Aadland's translations of Prine's "Angel from Montgomery".
The album Songfugl (2018) received critical praise upon its release. "One of this country's finest singers and songwriters", Dagsavisen wrote. National radio program Norsk på norsk called Alle dei i ei a "beautiful declaration of love". Fædrelandsvennen described Tom Roger Aadland as one our greatest rock poets. Songfugl included guest artists Lars Håvard Haugen (Hellbillies) and indie songstress Anne Lise Frøkedal.
Blondt i blondt (Dylan's «Blonde on Blonde» in Norwegian) got unanimously good reviews. "Superior Norwegian version of Dylan classic", Dagbladet wrote. The single Eg må ha deg received heavy radio airplay and the praise of artist colleagues. "Bravo!!" Sivert Høyem of Madrugada commented. Hellbillies front man Aslag Haugen exclaimed that "Tom Roger does this masterfully in his mother tongue!" Three weeks after the album's release, Bob Dylan was awarded the Noble Prize of Literature. "Sometimes albums come along that take your breath away, simply because they are so intense and beautiful. This was such an experience", was the accompanying statement when P1 Norsk på norsk voted Blondt i blondt album of the year in 2016. When the new bishop in Stavanger recently was ordained, Dylan sung by Aadland, was her special request, and H.M. The King of Norway in the audience. 
"Bordering on genius", one critic wrote when Tom Roger Aadland released his album Rapport frå eit grensehotell in 2015. On the extensive launch tour audiences found that Aadland has taken new steps as an artist and a songwriter. It is hardly a secret that he's one of Norway's finest lyricists, and when Norwegian favourite rock band Hellbillies release their new studio album in October, Tom Roger Aadland has written the lyrics for eight of the album's twelve songs. The single "Søvnlaus" has been warmly received by critics and audiences alike.
May 24th, on Bob Dylan's 75 year birthday, Aadland released the single Eg må ha deg, an energetic version of Dylan's I Want You. The response was overwhelming. The music blog The Wilhelmsens categorised Aadland's interpretation of Dylan as a "bull's eye" and gave six stars out of six. Artists colleagues were equally impressed. "Bravo!!", remarked acclaimed rock singer Sivert Høyem on Facebook. Aslag Haugen of Hellbilles commented, "Everybody who deals with songwriting knows that this is an extreme height to fall from…Tom Roger does this masterfully!"
All very promising as Aadland is about to share the results of what must be the definite test for someone who writes and translates rock lyrics. September 16th Tom Roger Aadland releases Bob Dylan's fifty year old masterpiece Blonde on Blonde in Norwegian. Songs such as Visions of Johanna and Sad-Eyed Lady of the Lowlands have been translated, and lines such as "Shakespeare he's in the alley" and "The Persian drunkard he follows me" have been set in a Norwegian context.
Tom Roger Aadland and producer Lars Voldsdal (Madrugada, Hellbillies) brought in top musicians Erland Dahlen (Madrugada), Tor Egil Kreken(Shining) and Kjetil Steensnæs (Bjørn Eidsvåg) to infuse Dylan's legendary songs with new life. All participated on Aadland's critically acclaimed Rapport frå eit grensehotell album. As a secret weapon they invited internationally renowned Sigbjørn Apeland on harmonium and Hammond organ to join the sessions. The album has been recorded and mixed at ABC Studio, Etne by Kjetil Ulland (Vamp).
Rapport frå eit grensehotell received outstanding reviews when the album was released in 2015. "Like Dylan, Aadland can with some simple, suggestive phrases take a moment and fill it with something that makes it feel crucial ", Dag og Tid wrote. The album dealt with human loneliness and longing for love, and the reviewers agreed that it contained Aadland's finest collection of songs so far. The single Like til mi dør went straight into top rotation on Norwegian national radio. Lars Voldsdal produced and mixed the album, that was mastered by legendary Greg Calbi at Sterling Sound, New York.
The autumn of 2015 saw Tom Roger Aadland having success as a translator for the spectacular theatre concert 27 – The Club, a show inspired by the fate of six legendary artists who burned their candles in both ends and who died at the age of 27. Aadland wrote the Norwegian versions of the lyrics to some forty songs, made immortal by Amy Winehouse, Kurt Cobain, Jim Morrison, Janis Joplin, Jimi Hendrix and Brian Jones. "Tom Roger Aadland has done a great piece of work translating these songs" the paper Klassekampen wrote.
When Tom Roger Aadland's album Fløyel og stål was released in 2012, the single Min beste ven på ein dårleg dag swiftly was playlisted by Norwegian national radio, and the album got great reviews. "Top class songwriter and performer" and "one of the best albums this autumn" were among the album's characterisations. National TV showed excerpts of the documentary Fløyel og stål that depicted the process behind the album – written in South Africa, recorded in Oslo and mixed in Los Angeles by renowned engineer David Bianco (Bob Dylan, Tom Petty). Fløyel og stål was an album with a strong melodic leaning and a tapestry of acoustic and electric string instruments.
There was room for falling and failing when Tom Roger Aadland released the follow-up to the critical and audience favourite Blod på spora. But the album Det du aldri sa (2011) was greatly received, and many were impressed that Tom Roger Aadland the songwriter was on the same level as the translator. "Norwegian pearls…impressive songs…dedicated and real" – praises were many for the album, which contained a collection of strong songs with a musical foot in the roots tradition. The lyrics for the closing track Postkort i oktober was published in the anthology SamtidslyrikkEN.
Blod på spora, a Norwegian version of Bob Dylan's masterpiece Blood On The Tracks was released in 2009 to brilliant reviews. Particularly the album was praised for the translations of Dylan's lyrics. Fredrik Wandrup in Dagbladet called Aadland's version of the album "beautiful and touching", while Aftenposten wrote that Blod på spora was an "impressive Norwegian classic". The song Vikla inn i blått (Tangled Up in Blue) was later voted as one of the most successful Norwegian cover versions by streaming service TIDAL. The response to the album lead to extensive touring all over Norway, and when Dylan became a university subject, Tom Roger had the honour of holding the opening lecture at Oslo University.
He has been described as a "great lyricist" and an "exceptional tunesmith", but Tom Roger Aadland is also a solid and energetic performer with a unique ability to convey the content of a song. He has sung Dylan in Norwegian and performed his own, critically praised songs on countless concerts all over Norway the last years, and has a reputation for always delivering on stage; whether he appears solo or with full band. He is as much at ease at a sweaty rock joint in Oslo downtown as he is at an arts centre somewhere along the Norwegian coast. Norway's favourite rock band Hellbillies chose him as their support when they did their anniversary tour, and a couple of years earlier he performed the winning entry in a Dylan translation competition arranged by Dagbladet. He has also premiered translations by awarded author Kjartan Fløgstad.
Before taking on Dylan, Tom Roger Aadland collaborated with legendary Irish rock photographer Fin Costello about the exciting multimedia tour Pictures In Rock. Together, they visited art galleries and concert halls and presented an exhibition of Costello's iconic rock photos in combination with a concert with Aadland and the Irish top musicians who participated on the debut album Obviously Embraced. "A great night for rock", was one journalist's summary of the event.
After travelling and giving concerts all over Ireland, recording his debut album Obviously Embraced in Dublin with Irish musicians felt natural to Tom Roger Aadland. Pianist and producer Brian Connor (Van Morrison, Riverdance) brought in some of Ireland's finest rock musicians to the session; people having played with artists such as Van Morisson and Sinead O'Connor. After hearing the recordings, Alastair McMillan (U2, Rolling Stones) offered to mix the album, which was then mastered by legendary Greg Calbi (Bob Dylan, Bruce Springsteen) at Sterling Sound, New York.
«We suspect that his lovely blend of melody and commentary will earn him loads of fans», Ireland's premiere rock magazine Hotpress wrote when Obviously Embraced was released the spring of 2007. Half a year later the album was released in Norway, and also here the reviews were positive. Many mentioned the strong melodies and the storytelling lyrics that permeated the album – some suggested that Ireland's mythic rock landscape had had a releasing effect on Tom Roger Aadland as a singer and songwriter.
Before going to Ireland, Aadland had done recordings in Zimbabwe with local musicians and visited festivals and concert stages in South Africa with his music. "It comes as no surprise that Aadland writes good songs" Cape Argus wrote when he played in Cape Town, and referred to his broad musical background. He has studied classical guitar with some of the best guitarists in the world, and has written music for everything from rock band to symphony orchestra.
Tom Roger Aadland is known as an energetic performer with a special ability to convey the content of a song, and has a reputation for always delivering on stage. He feels equally at home in a sweaty rock joint downtown as in a provincial arts centre by the sea. Tom Roger Aadland is still on his way – and still on the road. "Motgift" is his bravest release so far. About the process of making the album, Tom Roger says, "I decided that if in doubt, I'd just go for it. I'd rather risk making the occasional misstep than being someone who never took a chance."